Rainier Oregon Historical Museum
---
Back to Rainier Oregon's Lumber Mills Page!
---
Click on images to enlarge
---
Charles R. Wilson & Co. Saw Mill, Rainier, Oregon
Compiled by Mike Clark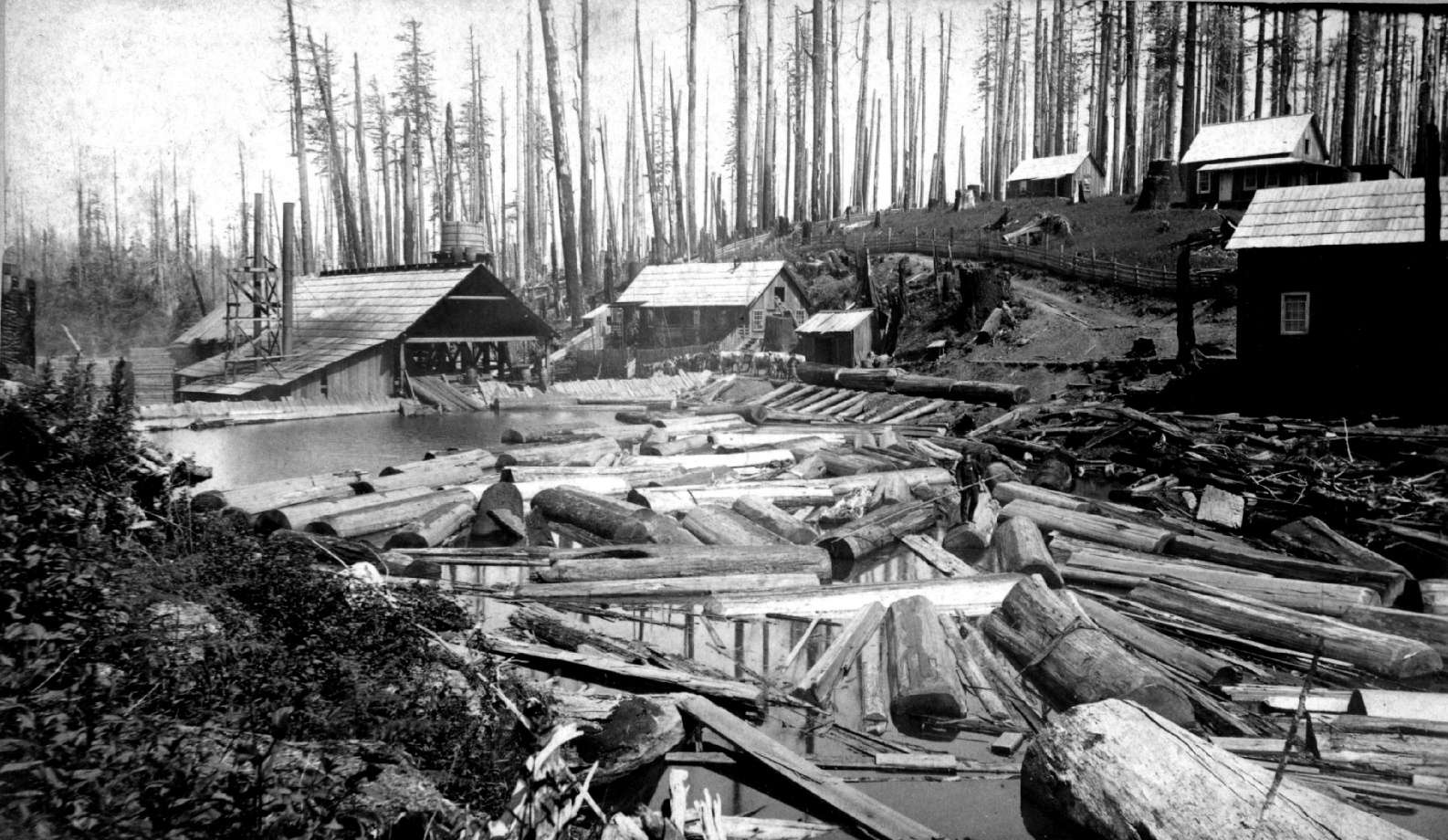 Photo of the Wilson Lumber Mill taken in the early 1880s. It was located on Beaver creek (see map below). It was destroyed by a fire in 1886 or early 1887 and abandoned.
---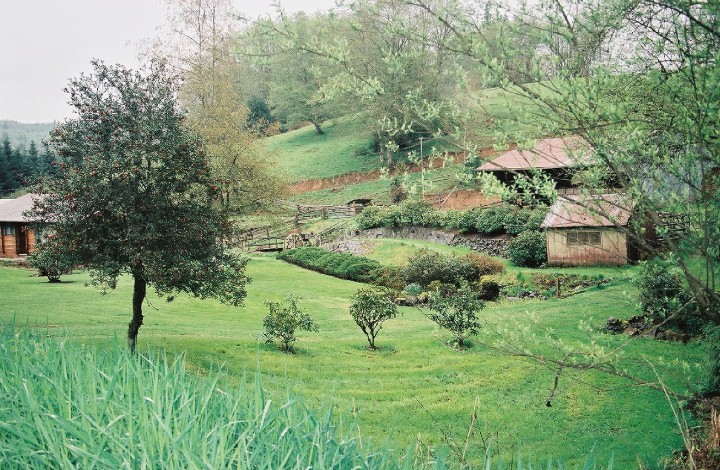 Photo of present location taken by Emily M. Wilson in May 2004. The original mill is now the home of Greer trucking and Excavation, Ron Greer (72838 Hutchinson Road Rainier Or 97048).
---
The Wilson Mill
From excerpts from "From Boats to Board Feet, The Wilson Family of the Pacific Coast"
by Emily M. Wilson
Bertha Wilson married Alexander Ring at age 20 in 1873. She settled down with Alexander close to Rainier where he owned a mill and some timber out in Beaver Valley. Between 1873 and 1877, Alexander purchased more than 240 acres of land in the area, probably with a view to logging them. Tragically, Alexander died on January 18, 1880 at age of 31, and Bertha was left with three small children in addition to the child she was carrying. The child, Alexander, was born on February 14 and passed away that following August. Bertha took in boarders out in Beaver Valley to help support her young family. A neighbor, Lars Baxter, helped to manage the mill. Because of the children, the boarding house, and the mill were more than Bertha could manage, she asked her brothers Charles and Henry Wilson to assist with the mill. They traveled up from Portland, coming to their sister's aid.
By late 1881, Charles and Henry Wilson and Bertha Wilson Ring had formed a partnership in the lumber company that had belonged to Bertha's husband Alexander Ring at Beaver Creek before his death. The new company was known as Charles R. Wilson & Co. In November, they purchased 184 acres of land in Columbia County, Oregon, for $1,000 from Mr. and Mrs. Victor Fievey. This land is believed to have been along Beaver Creek, located near Hutchinson Road/Fern Hill, just about 4 miles outside of Rainier, Oregon. At the site was a saw mill, a blacksmith shop, and housing for Henry, for Charles and Annie and children, and for Annie Wilson's father, Jonathan Moar, who was a blacksmith by trade. After the lumber was cut at the saw mill, it was sent down the Beaver Creek, down over the edge of the hill in chutes to Rainier's flood plain below, then loaded onto ships. The Beaver Creek sawmill was the start of the Wilson logging, saw mill, and shipping operations that would soon reach half way around the globe.
While at the mill, Henry met and married Mary Hilda Johnson. Her brother, Abraham B. Johnson, worked at the mill from the early to mid-1880s cutting red cedar shingles.
One fateful day, probably in 1886 or early 1887, a fire swept through the Charles R. Wilson & Co. saw mill and all was lost. Charles and Henry were left with a smoldering, unusable saw mill.
But this was a temporary set back. They made Abraham a partner in the firm, became known as Wilson Bros. & Co., and left for Aberdeen WA. For 2 1/2 decades they prospered, grew and expanded to San Francisco CA and all corners of the globe ...into maritime and logging and a multi-million-dollar timber business.
Charles Robert Wilson passed away after a long illness in 1908. Brother Henry Wilson passed away in the mid-1920's. A.B. Johnson passed away in the late 1940's. Bertha was remarried to William Pollock Gilbreath and passed away on October 29, 1940.
| | |
| --- | --- |
| Image | Description |
| | Bertha Wilson married Alexander Ring at age 20 in 1873. She became a widow seven years later when Alexander died, leaving her with three small children, one on the way, and overlooking the daily operation of her husband's sawmill in Beaver Valley. Her brothers Charles and Henry Wilson came to assist and She formed a partnership with them in a new company called Charles R. Wilson & Co. |
| | Receipts Alexander Ring's saw mill. |
| | Emily Wilson located the original mill site at, or near, what is now the home of Ron Greer (72838 Hutchinson Road Rainier Or 97048) close to where the Hutchinson and Beaver Spring Roads intersect. |
| | Part of a receipt from C. R. Wilson & Co., Manufacturers of Cedar and Fir Lumber, Rustic, Ceiling, Etc. Rainier, Or. |
| | "From Boats to Board Feet, The Wilson Family of the Pacific Coast" by Emily M. Wilson. A well written book on the history of the Wilson lumber empire and impact it had on Rainier in the 1880s. |
---
Return to top
---
Contact me at Clarkmikew@aol.com for any questions
Copyright 2018